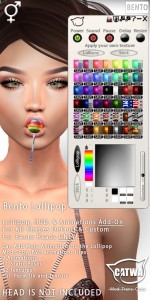 CATWA Lollipop
Available at Main Store
Lollipop features:
-Resizable via HUD.
-With and without animations.
-With/without Blow cheeks.
-Blow cheeks may change some custom shapes.
-Power button to stop/play animations.
-Pause lollipop for easy edit and move to correct position, better not rotate, only move forward backwards up or down.
-Animations delay to set time between animations in content
-Sound on/off eating candy sound when animation is played.
-Can apply your own texture.
-42 save slots can be used to save your own textures, when saving on old saved texture, it will be replaced.
-Tintable lollipop and stick.
-Glossiness slider control.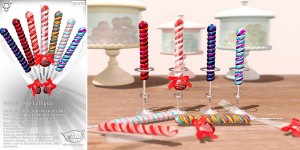 CATWA Sexy Lollipop
Available at Main Store
Sexy lollipop features:
-Click the lollipop to wrap [Stop eating animations]
-Click the lollipop to unwrap [Start eating animations]
-Can Add More Animations to the Lollipop
-Mod.Copy. BVH animations files
-5 Animations 2 Static Poses
-Fatpack comes with Full Perm UV and Diffuse Texture, apply your own texture button, tint, & glossiness slider and 42 Textures 9 of them are exclusive.
LIVE CHAT SUPPORT:
Copy and paste the following link in local chat, then click it, Join the group & Chat:
secondlife:///app/group/29c5ca14-7e13-fdf0-c531-2507844a1eef/about
Save
Save